Welcome to Surreal Sound Studios.
Philadelphia's Largest Rehearsal Facility!
Surreal Sound Studios is a 14,000 sq/ft. rehearsal studio with fully equipped hourly rooms and 24-hour access monthly rooms. All rehearsal studios are sound dampened, air conditioned, and secure.
It is a space for artists to rehearse, meet, and network.
We are located minutes from the Castor/Allegheny exit of I-95 in the Port Richmond neighborhood of Philadelphia.
Surreal Sound Studios is owned and operated by the following: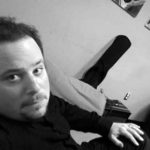 Joseph Lekkas
Partner, Bass Player & Driver of the Winnebago
Joseph is a local musician and show promoter who has "worked" for a million Philadelphia "institutions" and watering holes. In addition to having market tested every new beer exported to the city of Philadelphia over the last decade, Joe has been known to book an occasional rock show. He has been involved in Philadelphia nightlife for an aeon.
Asher Kahn
Partner, Hustler & Amateur Bob Sledder
Asher is a local musician who lives and works in Philadelphia. Asher has been playing in bands for almost 20 years and has gigged at more dirty bars and clubs than he can recall. 10 of those 20 years have been removed from his permanent memory through long nights with short term friends. He has successfully planned and promoted shows in the Philadelphia area for many years in addition to running a successful real estate business.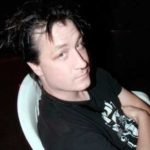 Chris Swenk
Managing Partner, Dark Overlord
Chris weighs in at 200lbs and hails from parts unknown. He's a gin aficionado though claims "it all tastes the same after the first 4 or 5". Chris spent many years working in the film industry in LA but came back to Philadelphia because he missed the cold, harsh, depressing winters.
Robyn Alezanders, Weekday Manager, Queen of the Underworld
& Tiny, Head of Security, Little Jedi Master
Robyn's partied at NYC goth clubs, played a baby-eating vampire on stage, and done a whole bunch of other interesting and possibly questionable stuff, before returning to Philadelphia for a simpler life. She's here for the music, and to add quirky decor to the office. If Robyn's around, so is her 6-lb Hellhound, Tiny, keeping everything in check and mooching for treats. When back at her own bat cave, she writes and creates spooky stuff, conjured from Muses we need not name.